Regular price
$20.00 USD
Sale price
$15.00 USD
Unit price
per
Sale
Sold out
Share
Must Read!

You'll need a free Google Sheets account to be able to use this template.

This template is NOT compatible with Microsoft Excel. Do not purchase if you intend to use it in MS Exce.
Delivery & Returns

File would be available instantly after payment. Due to the nature of the digital download, we do not accept returns, exchanges or cancellations. Kindly read the description carefully before purchase or reach out to me should you need more clarification.
Terms & Conditions

Upon purchase, you'll be granted a personal license of the said template. You are not allowed to resell, share or distribute it without my consent.

Each template is professionally designed and it is strictly prohibited to resell on any online platform or distribute as your own, this includes any types monetary activities, i.e. freebie for your email list. Kindly engage with me to discuss on the availability of the item for a commercial license.
View full details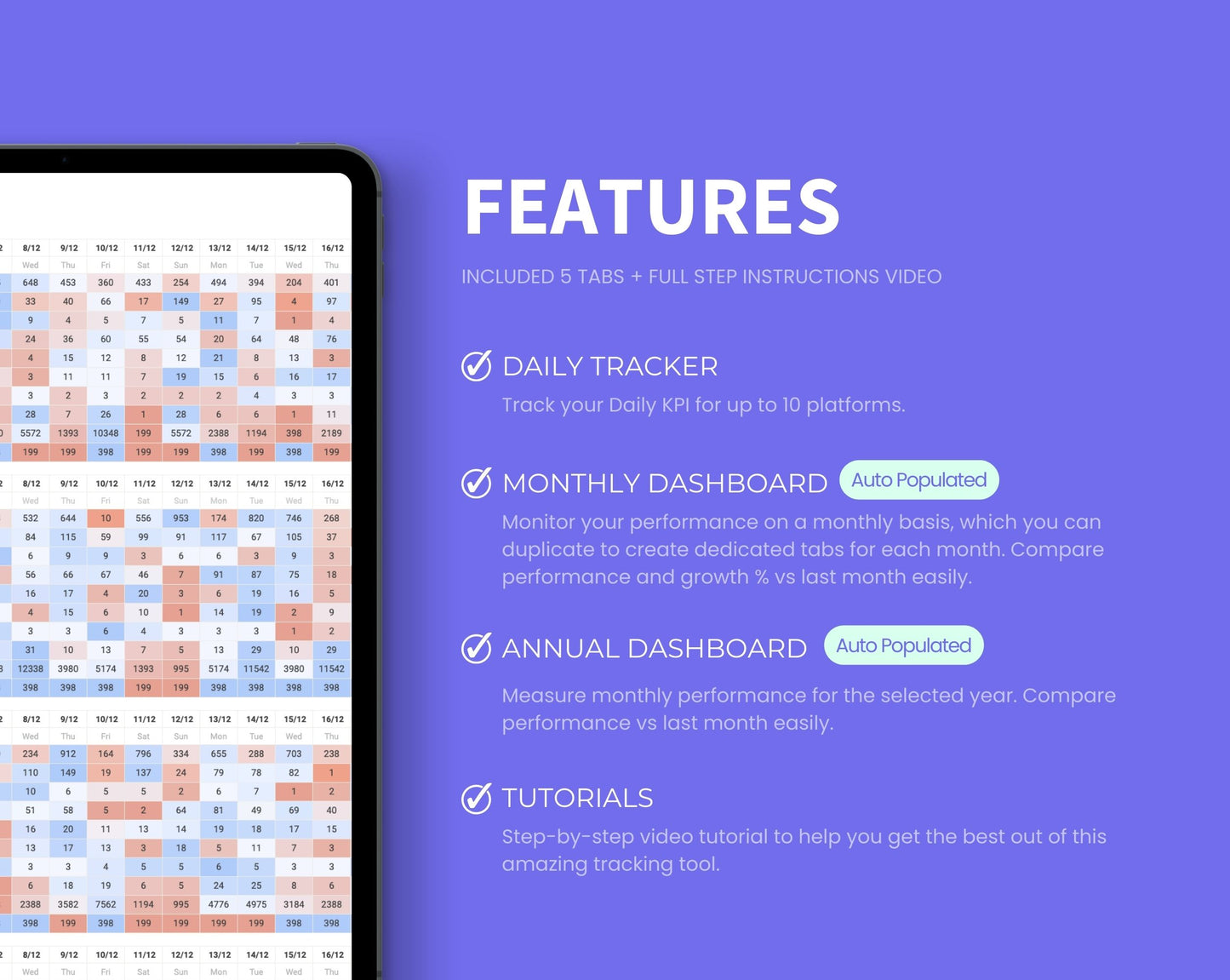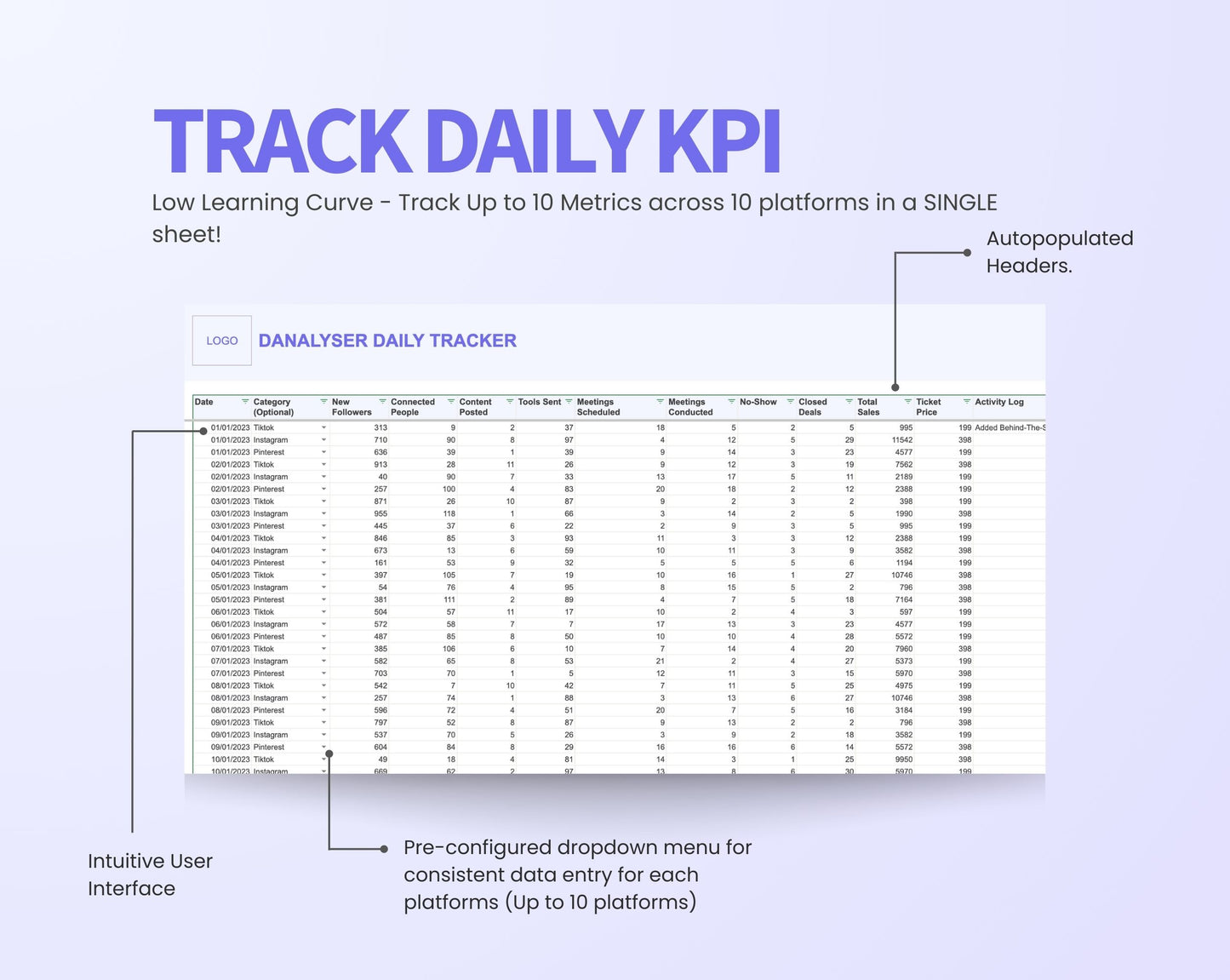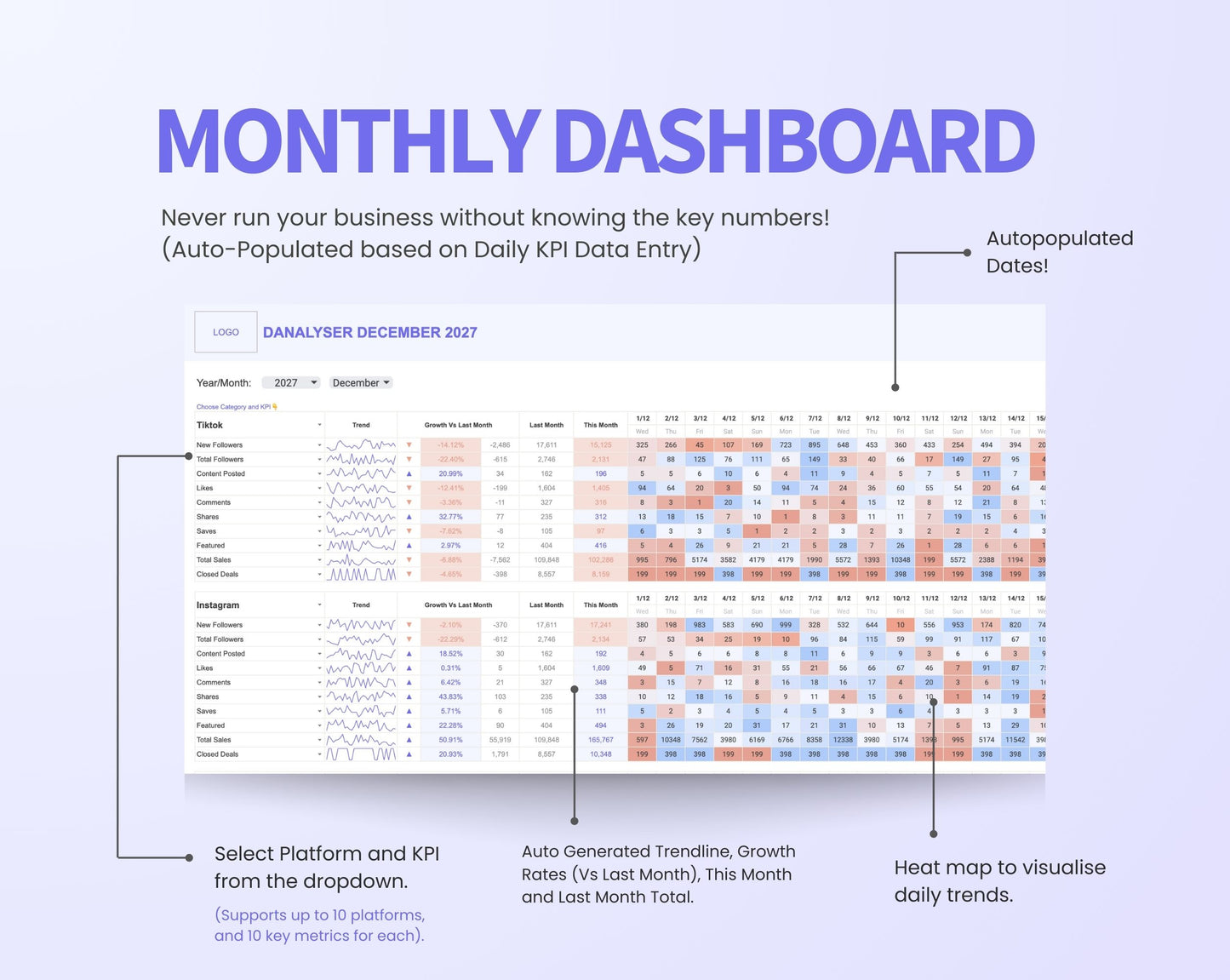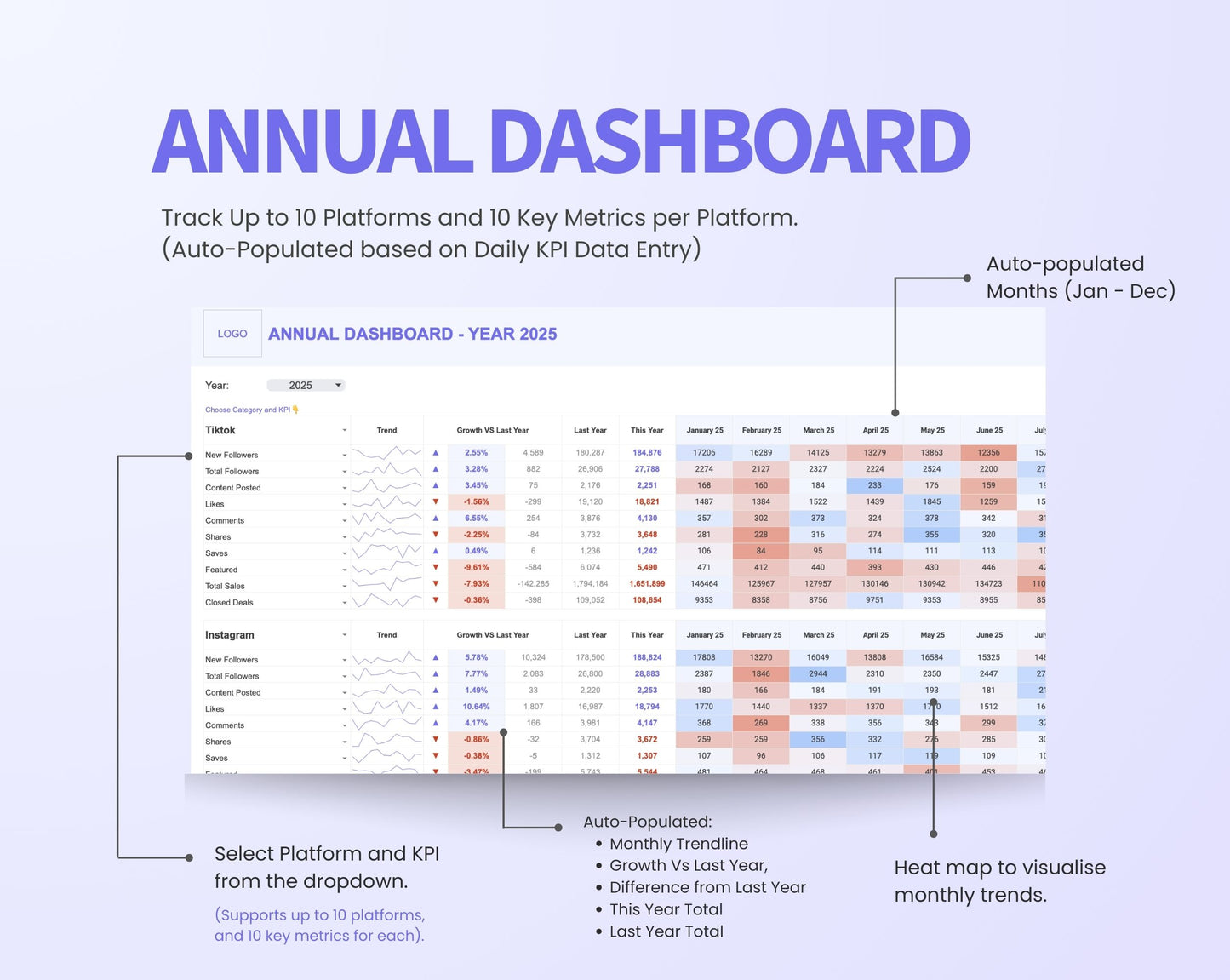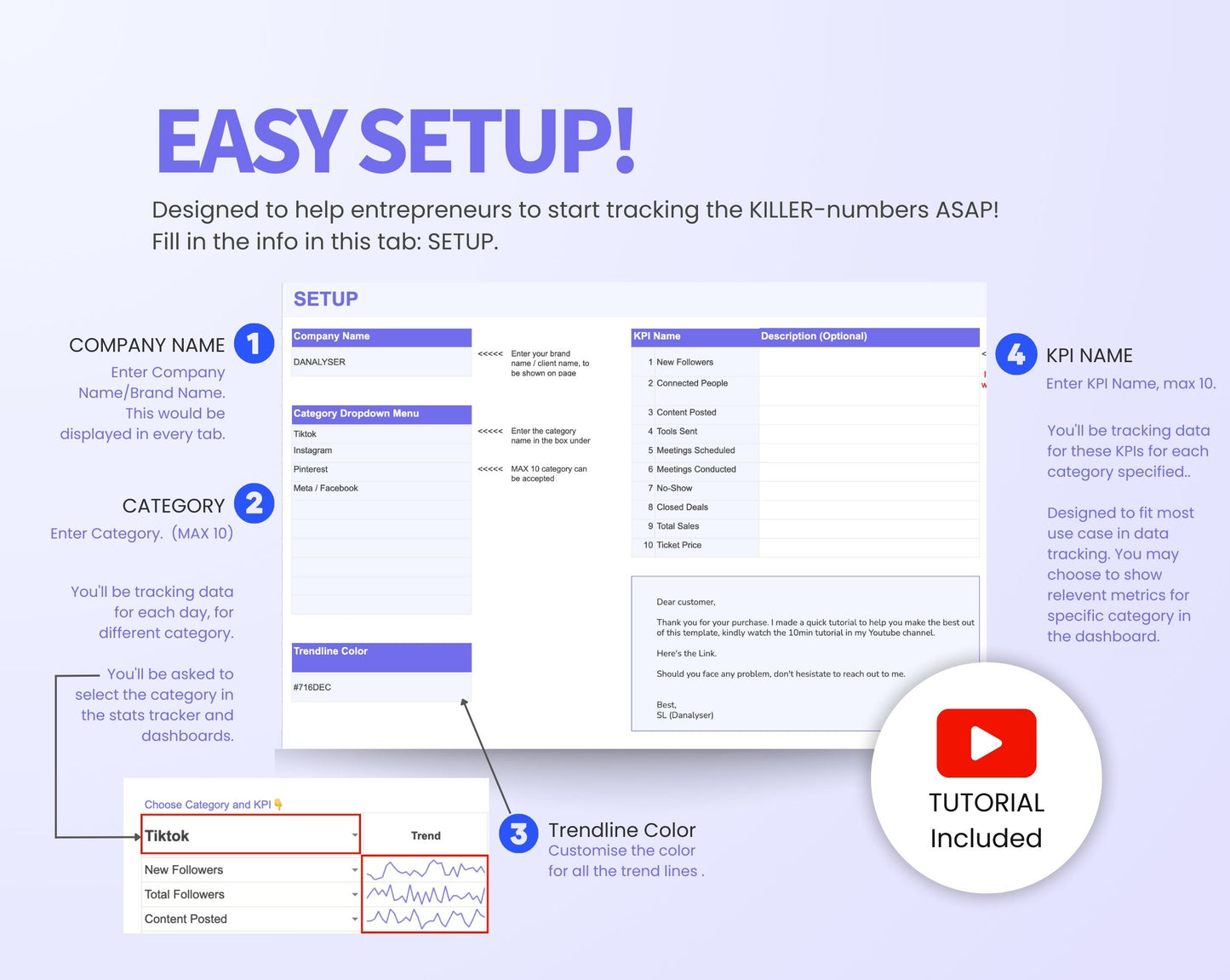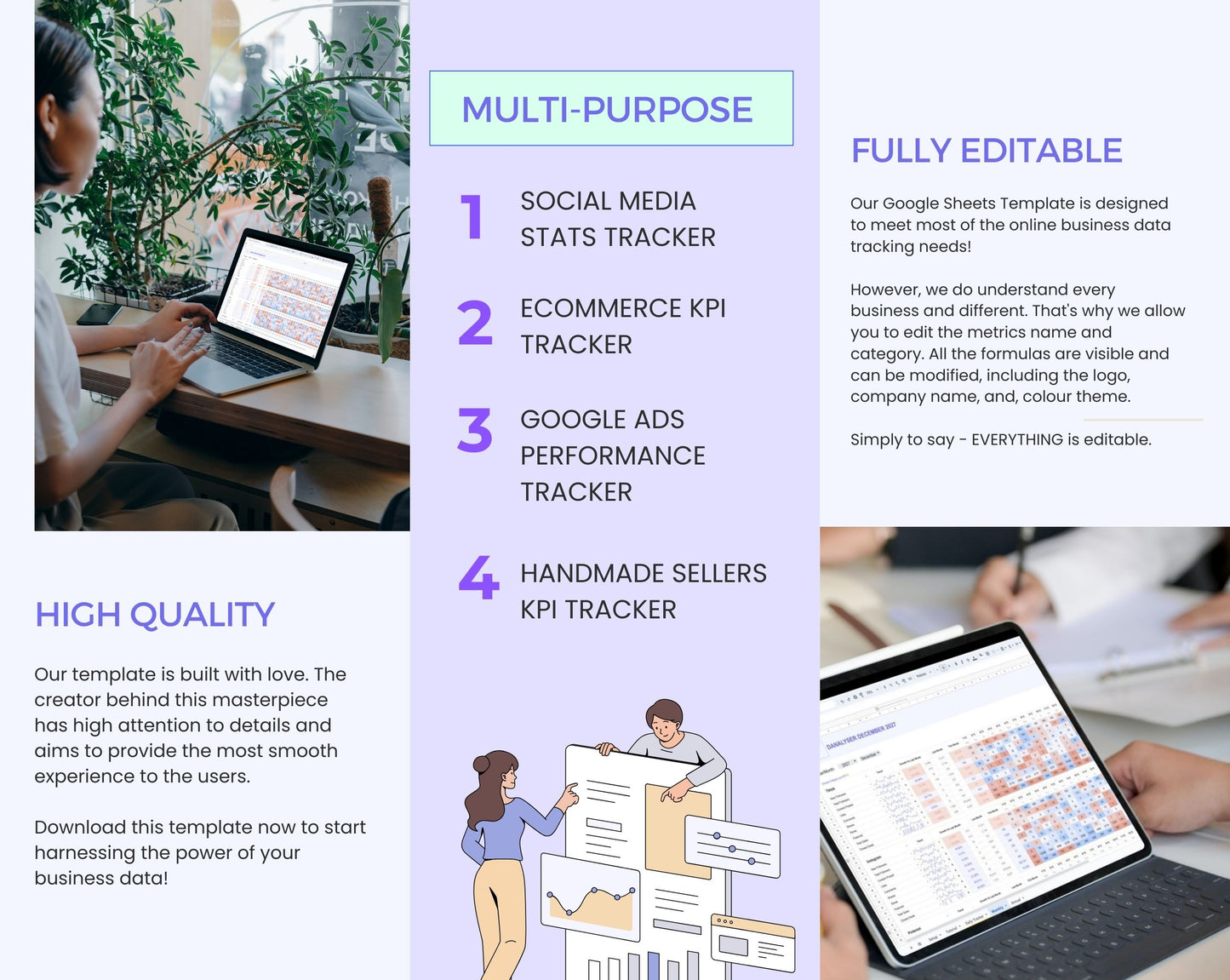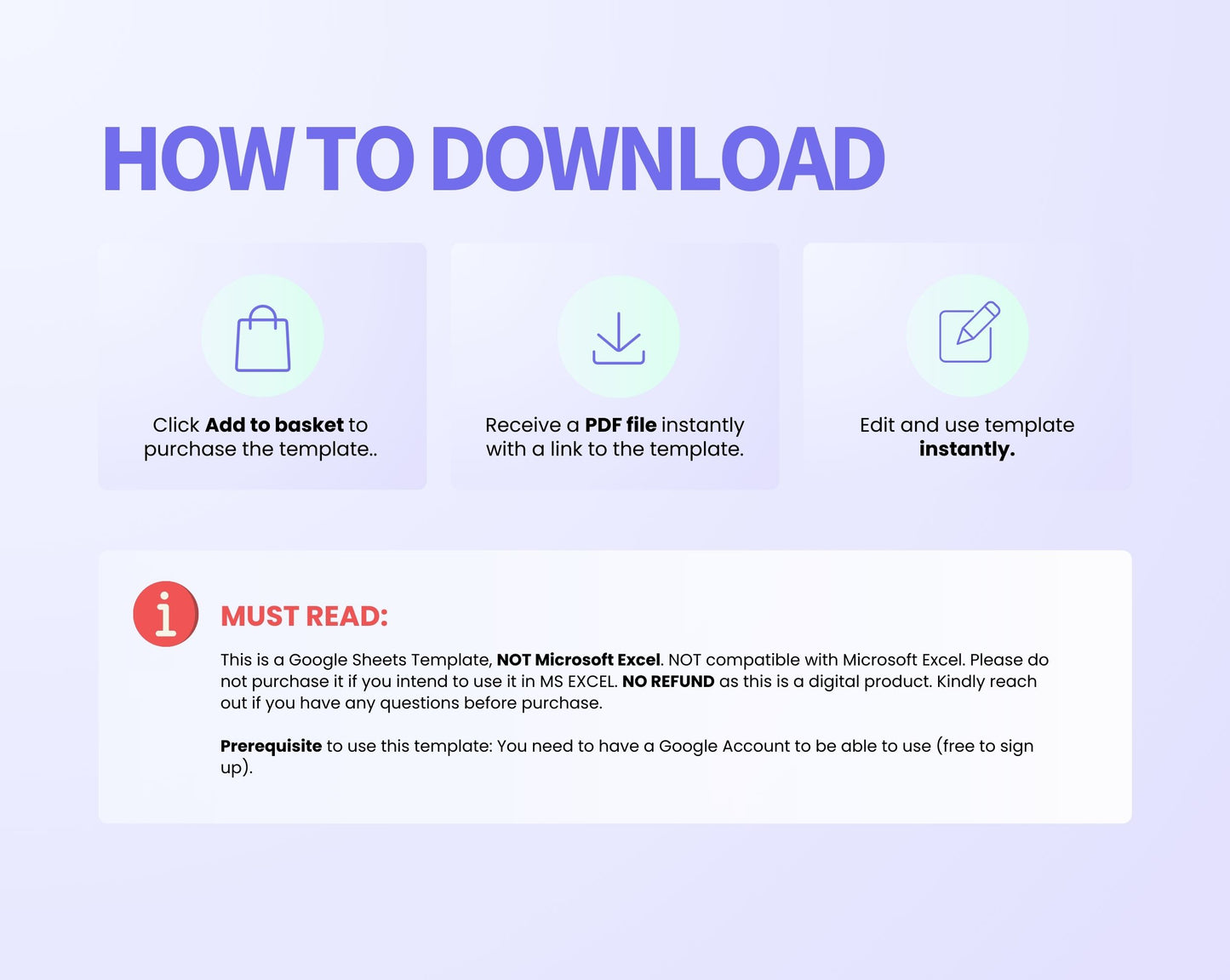 Are you tired of spending countless hours crunching numbers every month? If you work with data and find it time-consuming to analyze your business metrics, the Ultimate KPI Dashboard is designed just for you! Whether you're a small business owner, a freelancer, or an entrepreneur, this powerful tool will help you stay on top of your game by effortlessly monitoring your key business metrics and identifying areas for growth and improvement.
🚀 WHY CHOOSE THE ULTIMATE KPI DASHBOARD?
✅ Multipurpose: Track your social media stats, monitor e-commerce performance, analyze Google Ads data—anything related to data! The Ultimate KPI Dashboard is versatile and easily adapts to your specific needs.

✅ Use Forever: Once you purchase the Ultimate KPI Dashboard, it's yours to keep and use indefinitely. No subscriptions or recurring fees—just a reliable companion on your business journey.

✅ Automated Calculation: Say goodbye to manual number crunching. Our dashboard automates the calculations, saving you time and effort. Focus on what matters most—making strategic decisions based on accurate data.

✅ Professional Design: Impress your clients and stakeholders with a sleek and professional dashboard. Our template is meticulously crafted to deliver a visually appealing and intuitive experience.

✅ 100% Editable 💯 We understand that every business is unique. That's why we've made the Ultimate KPI Dashboard fully customizable. From metric names to categories, formulas to logos, and color themes to company names, you have the freedom to make it your own. With our template, everything is editable.
🌈 CUSTOMIZATION OPTIONS
Customizing the Ultimate KPI Dashboard to fit your branding is a breeze. The template offers a color palette configuration, allowing you to match it with your brand's visual identity. You can even insert your brand logo for that extra touch of personalization.


⭐ PRODUCT SPECIFICATIONS
Google Sheets Template with 5 Tabs Included:

◉ DAILY TRACKER: Track up to 10 metrics across 10 platforms—all in a single sheet. Table headers are auto-filled from the SETUP tab.

◉ MONTHLY DASHBOARD: Compare your current performance and growth percentage against the previous month, across multiple platforms, in a single page. Enjoy auto-generated trendlines and month-over-month (MoM) growth rate calculations. Visualize daily trends with a convenient heatmap.

◉ ANNUAL DASHBOARD: Easily compare your current performance against the previous year. It is auto-populated based on your daily KPI data entry. Analyse review business performance with our auto-generated trendlines and Year-over-year (YoY) growth rate metrics, and gain competitive advantage against your competitors.

◉ SETUP: Effortlessly customize the dashboard with our user-friendly interface. Simply fill in the info in the SETUP tab. Detailed tutorials are included to guide you every step of the way. Customize company name, category, KPI names, and trendline colors to match your unique business requirements.

◉ TUTORIALS: Gain a deeper understanding of the features and functionalities offered by the Ultimate KPI Dashboard, detailed Youtube tutorial is included to guide you step-by-step. Click to check out this free demo tutorial before purchase, no surprise here!

Take your business to new heights with Danalyser's Ultimate KPI Dashboard. Start tracking your key numbers today and unlock the insights you need to make informed decisions and drive your success.
Commonly Asked Questions
How fast can I receive my template?

You'll receive a link to the template in a PDF file instantly right after the payment is made. The PDF file is available for download at the payment page.

Another copy would be sent to your email.
Can I use this template for Microsoft Excel?

This template designed with formulas and features that are specific to Google Sheets. Hence, it's not compatible with Microsoft Excel / Excel Online. Please DO NOT purchase if you intend to use this in MS EXCEL.

NO REFUND would be given once the sale is confirmed as this is a digital product. Kindly reach out before purchase if you have any questions.
Is the design customizable in Google Sheets?

Yes, this Google Sheets Template is fully editable and customizable. You'll have a copy of the template and you can edit the template however you wish.

However, Danalyser is not responsible for the malfunction as a result of your editing action. Kindly ensure that you are not editing the formula embedded in the document.
What can I edit?

Text: Font Type, Size, Colour

Background: Colour

Table, Charts & Graphs: Data, Colour

Icons, Graphics: Add your brand logo. Insert any images or graphics as you see fit.

Make it yours! ✨
I do not have a Google Sheets account.

No worries! It's free to create a Google account.
What is Google Sheets?

Google Sheets is an online spreadsheet app that lets you create and format spreadsheets and collaborate with your coworkers and clients real-time.
Is my data safe if I use the template?

Do assure that Danalyser DO NOT have any access to the Google Sheets Templates you hold, as you would be the owner of the file.

Hence, the security of the data inside the file is safeguarded by Google.
Customization Request

We don't provide customisation service to the template at the moment.

Danalyser provides build-from-scratch and custom Google Sheets Template service for small businesses with a minimum budget of USD 600.

We'd love to speak to you on how we can help. Contact us now at hello@danalyser.com or DM us at Instagram: @danalyser8.
Need Help?

If you face any issue before or after purchasing the template, you may email me at hello@danalyser.com or message me at my instagram @danalyser8.
Choosing a selection results in a full page refresh.
Opens in a new window.