Regular price
Sale price
$10.00 USD
Unit price
per
Sale
Sold out
Share
Must Read!

You'll need a free Google Sheets account to be able to use this template.

This template is NOT compatible with Microsoft Excel. Do not purchase if you intend to use it in MS Exce.
Delivery & Returns

File would be available instantly after payment. Due to the nature of the digital download, we do not accept returns, exchanges or cancellations. Kindly read the description carefully before purchase or reach out to me should you need more clarification.
Terms & Conditions

Upon purchase, you'll be granted a personal license of the said template. You are not allowed to resell, share or distribute it without my consent.

Each template is professionally designed and it is strictly prohibited to resell on any online platform or distribute as your own, this includes any types monetary activities, i.e. freebie for your email list. Kindly engage with me to discuss on the availability of the item for a commercial license.
View full details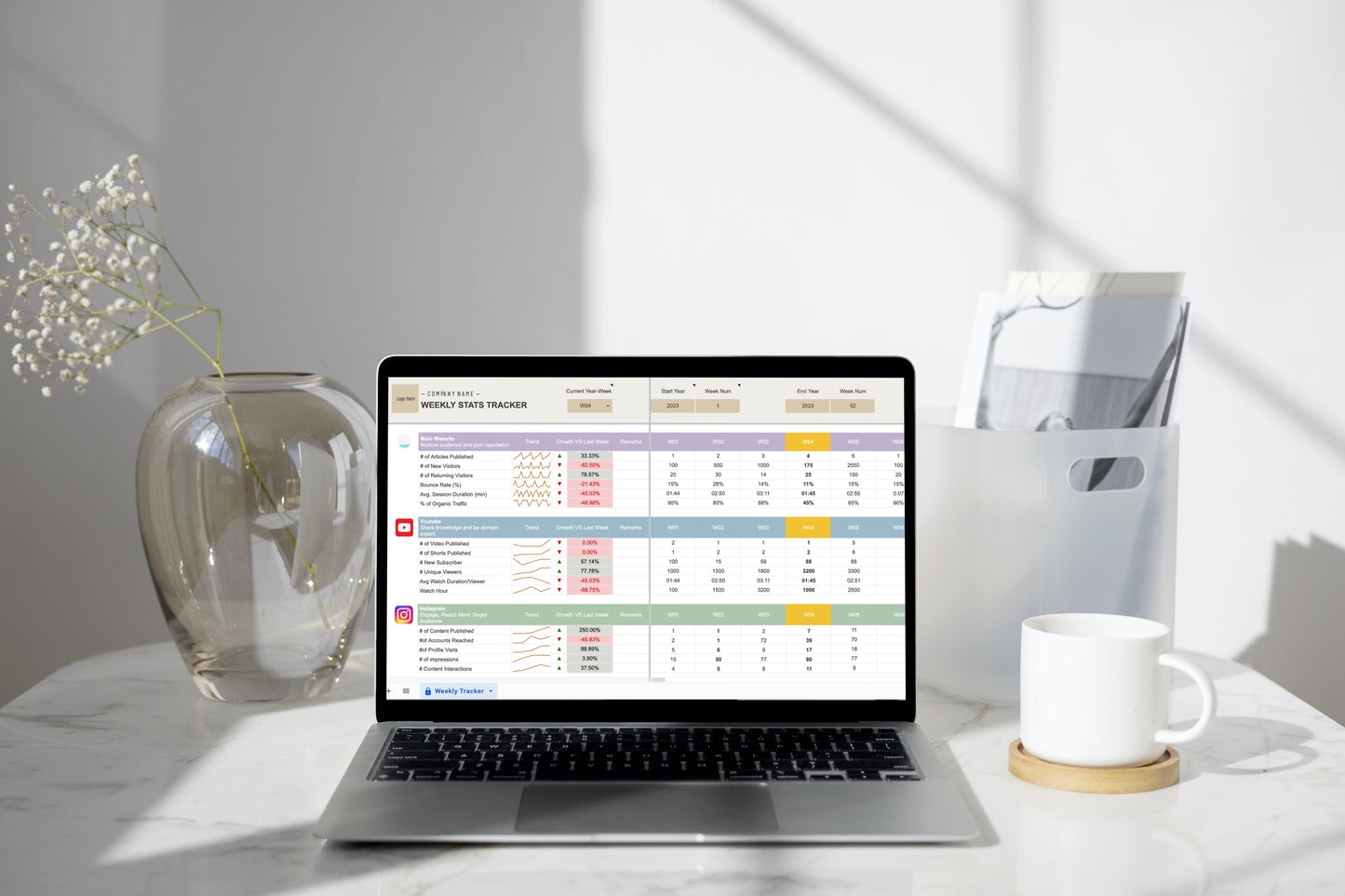 Keeping track of all your social media platforms' KPI metrics in an easy-to-use tracker made possible with Danalyser Social Media Statistics Tracker. Find out more below. 
Social Media KPI Tracking Spreadsheets
Looking to track your weekly social media performance? Our editable Google Sheets template has got you covered! With this template, you can easily track your stats on a weekly basis and gain insights into your performance over time.
This template is designed to cater to 10+ social media platforms, so you can fit every single platform your client has into it. With its easy-to-use interface and customizable features, you can quickly and easily track your social media performance and make informed decisions to improve your strategy. Not sure what to track? We've selected more than 40 KPI Metrics for you, come with this Google Sheets tracker!

Whether you're a social media manager, digital marketer, or content creator, this template can help you stay on top of your social media game. So why wait? Download our Google Sheets template today and start tracking your weekly social media stats like a pro!
Improvised Version

This template is improvised and enhanced based on existing buyers' feedback 💛 We value our buyer's feedback and we give upgrades for all the existing buyers for free to show our appreciation! We have sunsetting version 1 and now the newest version is available in our store. 
The current version has been improvised and programmed so that you could use it for years to come (Literally Forever!). We have added weekly growth metrics as requested by our buyers (Auto Calculated for sure!). It also has a better user interface, and is easy to edit!
Other than this weekly version, we also have monthly version, and monthly + weekly available in our store. Highly recommend grabbing the bundle version to get the most value for your money! (Business changes, and so does the way we track the numbers, right?)
I'm sure this stats tracker would make your data tracking fun and effortless from today onwards! Just like how it does to many of the business owners and marketing professionals who bought it from Danalyser! 
Who is This For?
This statistics tracker is perfect for anyone who wants to manage and monitor social accounts for businesses, especially great for:
💛 Small Business Owners
💛 Social Media Managers
💛 Online Coaches
💛 Influencers
💛 Digital Marketing Agencies
Mini trend lines for each KPI are generated when you enter the data, so you can analyze and take timely and strategic action for your business growth. 📈 
Why You Need This Template?
Danalyser Weekly Social Media Analytics Tracker is great for any individuals or businesses to track business statistics in an organised file, collaborate with co-workers to gather KPI metrics for easy reporting, and monitor business health easily with charts and growth metrics calculation.
Fully Editable, Customizable, Reusable

Our Google Sheets Template is fully editable and customizable to fit your branding and your preference. Add your own logo, customise the colors, change the font type is just a few clicks away!
You could also add or remove KPI metrics or social media platforms that come with the template. Not everyone's business is the same and our template is designed to fit the different metrics you need to make your business a successful one! Once you bought this tracker, you can use it for multiple years to come due to its versatile design! 
You can access the template easily on multiple devices, such as mobile, tablet, and desktop. However, we suggest you edit the template from a desktop/laptop for the best user experience. 
Sample KPI Included for the below Platforms
Website (Google Analytics)
Youtube
Instagram
Facebook
TikTok
Pinterest
Etsy Shop
Ko-Fi
Twitter
Linkedin
---
What's Included ?
This template includes a Google Sheets File with a Weekly Social Media Tracker

✓ Perpetual - Choose your start year/month and end year/month, Use Forever!
✓ 40+ Sample Metrics to track for each platform are included
✓ Mini Trendline to visualize business growth and detect abnormalities
✓ Weekly Growth Percentage (%) for Selected Current Month
How to Use?
To get started with the business tracker, simply enter the start year and end year, along with the months. This step would help you generate the month header automatically for each social media channel. Next, you can start entering KPI metrics for each month. Note that you can also customise the metrics name and platforms for your own brand.
Watch the free video tutorial below to see how exactly you could use it for your business or your clients. Instructions on how to customize this template are also covered in the video.
Terms and Conditions

No Refund Policy
We do not accept returns and cancellations after an item has been downloaded. But we are always here to help if you face any issues with your purchase. Please READ the descriptions carefully BEFORE purchasing. You're welcome to ask further questions by messaging me.
All listings in Danalyser online store are digital items, you would not receive any physical items or printings.
Terms of Use

You cannot share this template or redistribute the editable template. This template is strictly for personal use. For commercial licenses, please keep in touch with us to understand more. You cannot resell this template as your own or monetize any aspect of this template.

Each template is professionally designed and it is strictly prohibited to resell on any online platform or distribute as your own. Once purchased, the customer is solely responsible for the editing process and Danalyser will not be held responsible for any discrepancy in edited template versions. The template is for people who can use Google Sheets and have a basic level of understanding of using it. By purchasing any file from Danalyser you accept the terms and conditions as stated on the website and product page.
Resources and Tutorials
We provide useful tutorials here to help you edit your template and discover more ways to make the best use of the template. Timestamps to skip to the tutorial you need are available in the video description.
Click here to watch the tutorial video
Commonly Asked Questions
How fast can I receive my template?

You'll receive a link to the template in a PDF file instantly right after the payment is made. The PDF file is available for download at the payment page.

Another copy would be sent to your email.
Can I use this template for Microsoft Excel?

This template designed with formulas and features that are specific to Google Sheets. Hence, it's not compatible with Microsoft Excel / Excel Online. Please DO NOT purchase if you intend to use this in MS EXCEL.

NO REFUND would be given once the sale is confirmed as this is a digital product. Kindly reach out before purchase if you have any questions.
Is the design customizable in Google Sheets?

Yes, this Google Sheets Template is fully editable and customizable. You'll have a copy of the template and you can edit the template however you wish.

However, Danalyser is not responsible for the malfunction as a result of your editing action. Kindly ensure that you are not editing the formula embedded in the document.
What can I edit?

Text: Font Type, Size, Colour

Background: Colour

Table, Charts & Graphs: Data, Colour

Icons, Graphics: Add your brand logo. Insert any images or graphics as you see fit.

Make it yours! ✨
I do not have a Google Sheets account.

No worries! It's free to create a Google account.
What is Google Sheets?

Google Sheets is an online spreadsheet app that lets you create and format spreadsheets and collaborate with your coworkers and clients real-time.
Is my data safe if I use the template?

Do assure that Danalyser DO NOT have any access to the Google Sheets Templates you hold, as you would be the owner of the file.

Hence, the security of the data inside the file is safeguarded by Google.
Customization Request

We don't provide customisation service to the template at the moment.

Danalyser provides build-from-scratch and custom Google Sheets Template service for small businesses with a minimum budget of USD 600.

We'd love to speak to you on how we can help. Contact us now at hello@danalyser.com or DM us at Instagram: @danalyser8.
Need Help?

If you face any issue before or after purchasing the template, you may email me at hello@danalyser.com or message me at my instagram @danalyser8.
Choosing a selection results in a full page refresh.
Opens in a new window.